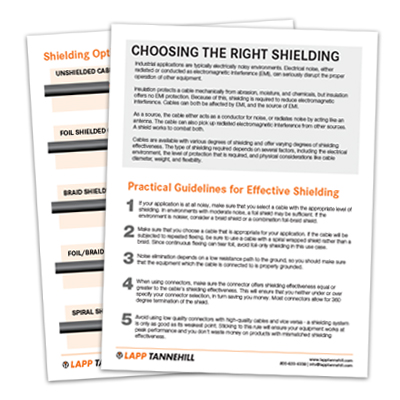 Cable Shielding Types Comparison Chart
Having trouble figuring out which type of shielding your cable requires for your application?
This Cable Shielding Types Comparison Chart can help you decide which type of shielding best suits the environment your cable will be living in.
The type of cable shielding you need will depend on several different factors including the electrical environment, the level of protection required, and physical considerations such as cable diameter, weight, and flexibility.
Download our Cable Shielding Options brochure or read our guideline on "Choosing the Right Type of Cable Shielding".
| | |
| --- | --- |
| Unshielded Cable | Cable that has no shield protection. Provides the smallest cable diameter for use in low-noise controlled environments such as inside a metal cabinet or a conduit, where it is protected from ambient EMI. |
| Foil Shielded Cable | Thin film of metal (typically aluminum) attached to a laminate material (e.g. polyester) for moderate EMI protection, especially at lower frequencies. Foil shields allow for lighter weights and smaller cables. |
| Braid Shielded Cable | Interwoven metal conductors in a criss-crossed pattern. Good strength and flexibility. Effective in lower frequency noise ranges. Up to 95% coverage provides good protection against higher frequency EMI. |
| Foil/Braid Shielded Cable | Combination of foil and braided shield. One of the most effective and superior shielding options for cable. Provides strength, high coverage, and great flexibility where noise rejection is critical. |
| Spiral Shielded Cable | Similar to a braid shield, but has single copper strands wrapped in a spiral around a conductor or a cable core. More flexible and easier to terminate than a woven braid. Coverage is generally between 95% and 98% |