TE Connectivity
For over 75 years, TE Connectivity has made it a priority to focus on reliability and durability. Their commitment to progress and unparralled range of product offerings enable companies of any size to turn ideas into technology that can transform how the world works and lives tomorrow. TE Connectivity continues to collaborate with its customers to produce highly engineered connectivity and sensing products that make a connected world possible. Lapp Tannehill is proud to be a part of that transformational movement, stocking several TE heat shrink product lines ranging from general industrial use to certified medical invasive rated materials.
TE's heat shrink tubing provides a variety of benefits for numerous applications, including electrical insulation, mechanical protection, environmental sealing, and strain relief for applications such as back-end connector sealing, breakouts, and connector-to-cable transitions. It is a great alternative to taping, molding or potting. When heated, it conforms to the size and shape of the substance beneath, allowing for a quick and easy installation process. Its high flexibility makes it possible to repair most damaged cable jackets without removing connectors. Available in a wide range of materials, colors, sizes, and heat shrink tubing styles. Lapp Tannehill can provide you with the right TE tubing product for any application.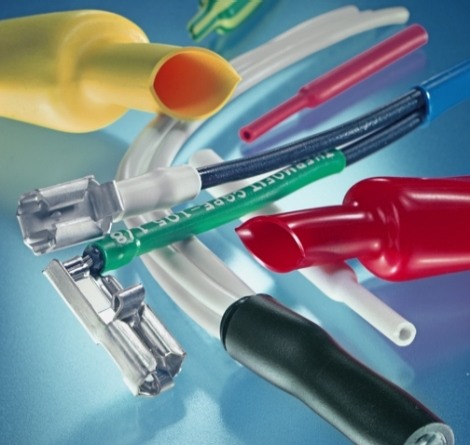 TE Heat Shrink Tubing Features
Spool lengths, nonstandard cut lengths, expanded/recovered I.D's
Multiple products are offered in flame-retardant (FR) versions
Meet AS23053 and MIL-PRF-46846 standards - Single Wall
Comply with AS23053 standards - Dual Wall, Heavy Duty, Harnessing, Specialty
Most are UL recognized/CSA certified
SPC inspection/data on cut pieces
Custom specs and tolerances
Various materials meet specific requirements
TE Heat Shrink Tubing Product Categories
Lapp Tannehill is a distributor of a variety of TE's heat shrink tubing. Some products may not be on our website, but please contact us and we can help you with your order.
Single Wall Tubing
DCPT
RNF-100
RNF-3000
RP-4800
RT-3
VERSAFIT
VERSAFIT-3X
VERSAFIT-V2
VERSAFIT-V4
ATUM
and more
Dual Wall Heat Shrink Tubing
DWP-125
ES1000
ES2000
SCL
SCT
TAT-125
and more
Heavy Duty Tubing
BSTS/BSTS-FR
HF
HRHF/HRNF/HRSR
HRHT
RHW
RMW
SST/SST-FR
LRHT
Special Purpose Heat Shrink Tubing
DR-25
ES Caps
NT-MIL
PD Caps
RNF-150
RT555
RW-175
RW-200
SFR
TC Caps
and more
TE Connectivity – Medical Tubing MT-FEP & MT-LWA
This family of high-performance, medical-grade, heat-shrinkable, single-wall tubing is made of a material formulation that meets the requirements of USP Class VI for medical uses. Applications include surgical and electrosurgical instruments, diagnostic and therapeutic equipment, catheter systems, laboratory equipment, sensors, and food processing equipment. All Altera tubings can be sterilized by ethylene oxide (ETO), or by gamma or electron beam radiation; some types can be sterilized by steam or dry heat.